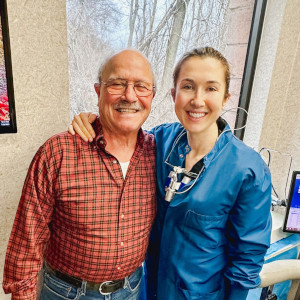 After a tooth has been extracted to make way for a dental implant, careful management of the healing process is vital to ensure the implant succeeds.
Careful management of extraction sockets after tooth extraction prevents disfiguring bone loss and leads to a better cosmetic outcome of tooth replacement. Whenever a tooth within the esthetic zone (within the gummy area in the viewable smile line) is to be extracted or in sites which may later receive dental implants it is advisable to consider socket/ridge preservation bone grafting. This will slow the process of gum and bone collapse. This atrophy occurs after the extraction of teeth and grafting allows for less shrinkage and a more esthetic tooth replacement (either implant crown or fixed bridge around the replacement teeth).
---
In this photo it is easy to see how the ridge has collapsed. The tooth was removed and, without stimulation, the bone and gum have disappeared. (Read how bone disappears without tooth stimulation). Note how the restoring dentist had to make a tooth that is oversized and is misshaped in order to fit the existing space. If grafting materials had been added to the extraction site at the time of surgery the collapse could have been prevented.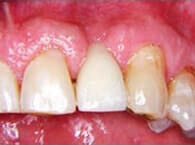 ---
This is a photograph of a lower ridge that has lost 60% of the width following an extraction and normal healing. The black arrows indicate where the bone is located. Compare the width to the adjacent molar. The red arrows indicate the normal width that should be there.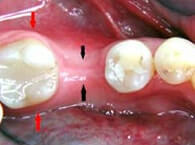 ---
This photo shows just how much bone can be lost and how thin a ridge can get before it disappears completely.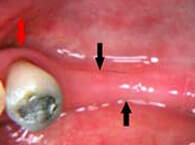 ---
When a tooth is removed the remaining socket can be grafted. Note how the placement of the graft materials in this socket plumps out the ridge.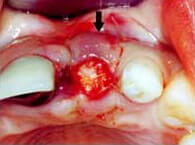 ---
There are many different reasons why a tooth must be extracted. It is important to consider the various long-term issues that affect the bone long after the tooth is removed. The reasons include:
Preserving the bone for esthetics
Continued function, strength and support of the jaws
Preserving bone prior to an implant.
If you need to have a tooth removed ask Dr. Roll if a socket graft is recommended.