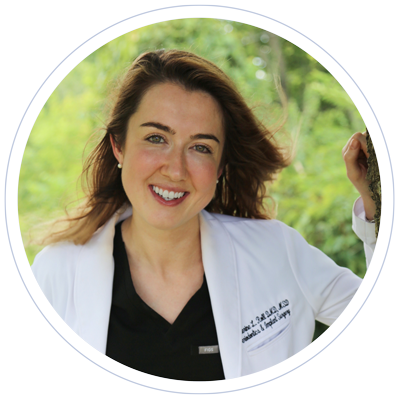 PERIODONTICS AND DENTAL IMPLANTS
"A positive personal experience, along with an appreciation for the art and the precision of periodontal surgery and implant dentistry, led me to pursue a career in periodontics. Having undergone periodontal surgery as a teenager, I understand the anxiety and fear that comes with sitting in a dental chair.
My practice philosophy is to treat all patients with a compassionate and tailored approach, thereby making them feel comfortable, alleviating their fears, and improving the quality of their lives."
PERIODONTICS AND

DENTAL IMPLANTS
Dr. Katherine Roll is board certified in Periodontology and Dental Implant Surgery. Originally from Pittsburgh, she received her Bachelor of Science degree in Biology from Cornell University, and her Doctorate of Dental Medicine from Rutgers University. She then moved to Seattle where she completed a residency in Periodontics at the University of Washington, receiving a Master of Science degree.
While at the University of Washington, Dr. Roll's training focused extensively on comprehensive, full mouth rehabilitative care, and interdisciplinary treatment. She became very skilled in various cosmetic surgeries including gum reconstruction, dental implant surgery (including full mouth "teeth-in-a day"), bone and sinus reconstruction, periodontally accelerated osteogenic orthodontics (PAOO), and other periodontal plastic surgery procedures. She is certified in IV sedation.
Dr. Roll has lectured nationally and internationally on her clinical work and research. Her speaking engagements have included the 2018 American Academy of Periodontology Annual Meeting, and the 2019 Academy of Osseointegration Annual Meeting. In 2018, she was awarded the prestigious Balint Orban Memorial Award, by the American Academy of Periodontology for her research on dental implant treatment in Type II Diabetics. She was also awarded Best Oral Clinical Research Presentation by the Academy of Osseointegration in 2019. She has been invited by the American Academy of Periodontology to speak at the upcoming 2020 annual meeting in Honolulu, Hawaii.
Dr. Roll prides herself on honesty, integrity, and delivering the highest quality of care to her patients. To provide the best patient care, she participates in extensive continuing education in both surgical and non-surgical treatments, and maintains active memberships in several professional associations, including the American Academy of Periodontology, the Academy of Osseointegration, the American Dental Association, and the Seattle Study Club. She is also a research committee member for the Academy of Osseointegration. In her free time, she enjoys exploring the outdoors, running, skiing, cooking, traveling, and spending time with her family and friends.