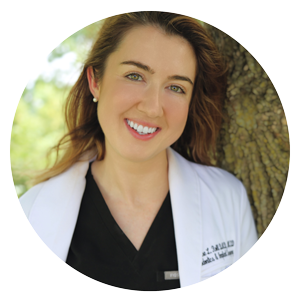 This photo shows two implants in good condition with healthy gingiva. The lower teeth will simply snap onto the implants, securing them into place. Eat, smile, and laugh without fear or embarassment again.
A denture is like a wheelchair for teeth.

So, how are you getting around these days?
The truth about George Washington Style antiquated dentures is this: They make you feel old and they don't work. They never have. So, what do you do when the glue no longer works because so much of the jaw bone has disappeared under the pressure of the lower denture? What choices do you have? Well, in as little as two months and several appointments we can change your life.
When people are sentenced to a life with a lower denture (wheelchair) they lose confidence and lose the ability to enjoy the basic pleasures of life. Think about it for a moment: How do you feel about having to be on guard that your teeth will slip out in public or in front of a loved one? What's it like not to be able to eat the foods you love and savor the rich flavors and textures of your favorite meals? How does it feel not to be able to smile and have to hold your hand in front of your mouth to hide the fact that you are embarrassed by your teeth? I have seen the devastating psychological, physical and emotional damage. I have witnessed the pain that our patients endure as a result of not being able to enjoy these basic pleasures in life. I can also tell you that it doesn't have to be this way. There is a solution — one that will change your life and allow you to regain the quality of life that you once enjoyed before you lost your teeth and before you became dentally crippled.
Changing your life begins with the placement of dental implants into the front part of the lower jaw. The solution is to get Real Teeth for Life by using dental implants to secure and snap your lower teeth in place while you speak, while you eat and while you smile. Implants are placed on both sides and attachments that function like the snaps on a cowboy shirt are attached to the implants and to the denture. When the teeth are pressed onto the implants they snap into place and hold the teeth down. It is that simple and like I said, in as little as two months and several appointments we can change your life.
There are many design options that are available for this technological miracle that changes lives each and every day.
Place just two implants and we can change the quality of your life. Place four implants and you will feel like you went to heaven.
Place 5 implants and you can have teeth that are permanently secured in place and don't come out. With five, we can give you back the feeling that you have teenage teeth again. We can turn back the clock.