When treating gum recession, the key is to treat it early, before bone loss can occur. Contact us today for a consultation about gum recession treatment.
GUM RECESSION

TREATMENT IN PITTSBURGH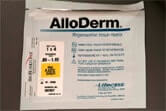 Gingival recession is an issue that is being treated with increasing frequency. Considering the damage that occurs with recession, this treatment is essential to stop the destruction and insure that teeth are not lost as a result of:
The loss of gingiva
The loss of underlying bone
Exposure of the soft root surface, root abrasion, root wear/destruction
Sensitivity and greater tendency towards decay
Bonding exposed root surfaces does not treat or stop recession. It merely attempts to temporarily cover the exposed areas. We therefore need predictable methods to recover and protect exposed roots. AlloDerm dermal tissue can predictably accomplish this. The key is to treat early before any inter-proximal bone loss occurs. The inter-proximal bone levels determine the height of tissue. When bone levels drop we cannot regain lost tissue to the level of the cemento-enamel junction.

AlloDerm Defined
AlloDerm is an acellular dermal matrix derived from donated human skin tissue supplied by US AATB-compliant tissue banks utilizing the standards of the American Association of Tissue Banks and FDA guidelines. AlloDerm is regarded as minimally processed, and is not significantly changed in structure from the natural tissue. This is why the FDA has classified it as banked human tissue.
AlloDerm begins with natural tissue
Human skin consists of both epidermis and dermis. The epidermis is cellular and contains DNA. The dermis is acellular and contains a framework of biochemical and structural components that allow it to regenerate and replace itself continually throughout life. This complex natural framework consists of a three-dimensional arrangement of:
Proteins with a structurally intact basement membrane
Intact collagen fibers and bundles to support tissue in-growth
Intact elastin filaments for biomechanical integrity
Hyaluronan and proteoglycans
How is AlloDerm modified from natural tissue?
When AlloDerm is prepared, the human donor tissue undergoes a multi-step proprietary process that removes both the epidermis and the cells that can lead to tissue rejection and graft failure, without damaging the matrix.
What components are left after this process?
The cells responsible for immune response and graft rejection are removed. What remains is a matrix or framework of the natural biological components, ready to enable the body to mount its own tissue regeneration process.
AlloDerm – A Safe and Effective Alternative
Tissue donors are screened and tested for transmissible diseases including HIV, hepatitis, and syphilis before tissue processing. A comprehensive review of the donor's medical records and social history is completed and released by a medical director before allowing the tissue to be processed. Finally, before AlloDerm is released for use, additional tests are performed to assure patient safety. AlloDerm has been utilized in more than 750,000 dental implants and grafts to date, without any reported incidence of disease transmission.
Using AlloDerm for tissue repair is like using one's own tissue except that the patient will avoid a second surgical site and the potential problems associated with a second surgical site. When a patient has multiple areas of recession, AlloDerm's greatest advantage is that it allows us to treat as many teeth as the patient chooses in one sitting; thus avoiding multiple surgeries. It therefore effectively reduces overall time, cost and pain.