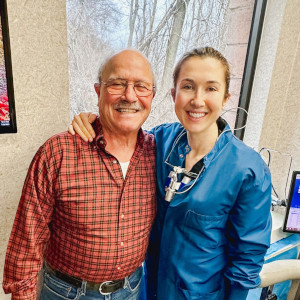 After meeting with you to discuss your wishes, Dr. Roll will recommend a surgical procedure to correct any periodontal damage. She'll answer all your questions and ensure you understand every aspect of your treatment options.
PERIODONTAL SURGERY (WHAT YOU NEED TO KNOW)
Following examination and diagnosis, Dr. Roll may feel that your periodontal condition requires a surgical procedure to correct the damage to the gum and bone. From the many treatment options available, Dr. Roll will recommend a treatment that is tailored to your individual needs and that will re-establish good periodontal health. Dr. Roll provides a variety of surgical services. She prides herself on the fact that she is very conservative in her treatment recommendations and limits surgery to the areas where it is absolutely necessary. Periodontal procedures are available that can reshape and reduce areas of damage and some that can regenerate bone and gum tissue, oftentimes, to their original function and cosmetic appearance. This page answers questions that you may have about periodontal surgery. It complements the advice you have received from your dentist and Dr. Roll.
Why do you need periodontal surgery?
Dr. Roll has recommended surgery to correct or improve the periodontal damage that has affected your gum and or bone. The surgical technique that Dr. Roll chooses will depend on the type and severity of your disease and other oral conditions.
Reasons why you may need periodontal surgery:
What discomfort can you expect?
You should feel no discomfort during the surgical procedure. Dr. Roll will give you a local anesthetic to numb the surgical region. Many techniques are available for relieving your anxiety during surgery. Dr. Roll will speak to you about these options. Typically following any type of surgery, the surgical site may be tender or sore, or it may swell. Dr. Roll usually prescribes the medications for you to take prior to your procedure to prevent or reduce post-surgical swelling and discomfort. She may also prescribe antibiotics or antibacterial rinses to protect you from infection. If you take your medications as directed and follow Dr. Roll 's instructions, it will help to prevent or minimize any discomfort. And, like most of Dr. Roll 's patients, you will likely resume your normal routine with minor modifications (e.g. no vigorous exercise for the 1st three days) soon after surgery.
Will I be able to speak and eat normally after surgery?
You should be able to speak normally after the anesthetic has worn off. It is important that you maintain a well-balanced, nutritious diet after surgery. You may need to avoid chewing some foods in the surgical region for a few days to a week or two depending on the procedure performed. After some types of periodontal surgery, the teeth may be more sensitive to hot and cold. This sensitivity usually diminishes greatly during the first few weeks after surgery.
When do you need to see Dr. Roll again?
Usually, you will need to return for post-surgical treatment in 7 to 14 days. At this time, it may be necessary for Dr. Roll or his staff to remove any stitches and cleanse the surgical site. You will need additional follow-up appointments (usually one or two) to evaluate your healing response and review proper oral hygiene procedures.
Will I ever need surgery again?
In most instances, you will not need surgery in the same region again. However, in certain patients, re-treatment or additional surgery may be needed. As you have learned, you may be prone to periodontal diseases, which are chronic and require constant and careful attention. Like other chronic diseases, such as diabetes, hypertension and asthma, periodontal disease has no cure. We are able to arrest the disease, correct the damage and work towards maintaining health. Correcting the damage allows the daily plaque control measures to control disease and prevent further destruction to the gums and bone, thereby minimizing tooth loss. Most patients must be in a regular periodontal maintenance program to prevent recurrences of the disease.