What is the process of
DENTAL IMPLANTS?
1
A titanium implant will be placed in the jawbone to replace the root. Then you will be given time to heal. The jawbone will grow around the implant and create a strong foundation for the tooth part of the implant that will be put in later on.
2
Next, a support post, known as an abutment will be placed into the titanium implant.
3
A porcelain crown is placed onto the post. This crown will act and look like a new tooth. The crown is made to fit precisely in your mouth and match your remaining teeth.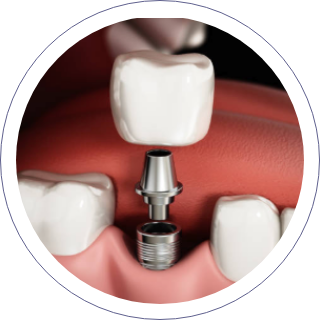 We offer many options and choices if you are missing a tooth or multiple teeth. Dr. Silberg and Dr. Roll are happy to answer questions and discuss options with you at the time of your appointment. They and the rest of our team at Pinnacle Center – Dental Implants & Periodontics will work with you to place an implant that will last the rest of your lifetime.
Why Choose a
DENTAL IMPLANT?
Missing teeth can impact how you chew, bite, speak, and eat. You will also be forced to rely on your other teeth more which means these teeth are at increased risk of wearing out or becoming damaged. Missing teeth can also lead to headaches and jaw pain. Because of these health reasons, it is important to replace missing teeth as soon as possible. A dental implant is the most comfortable and permanent solution to replace missing teeth. The implant creates a strong foundation for the replacement teeth and keeps jaw bones healthy.
Dental bridges can impact the structure of the surrounding healthy teeth, and they are often difficult to clean around. Removable options like dentures are uncomfortable and unnatural. They have to be taken out frequently and can also damage the supporting teeth. Dental implants, on the other hand, function like your original teeth. They don't require regular maintenance, and they create a uniform, healthy smile.
Never again suffer from the use of dentures, or the pain and embarrassment of missing teeth. Ever!
Make My Appointment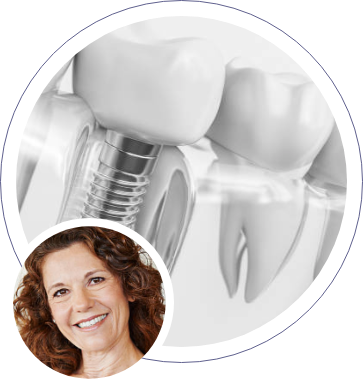 WHAT IS THE COST OF A
DENTAL IMPLANT?
The cost of dental implants can be a bit pricey in some cases because many insurance companies don't cover the cost of this procedure. This is because they consider dental implants a cosmetic procedure. But, when you have a broken or missing tooth, getting it replaced is not just cosmetic. Teeth replacement is needed to keep your mouth and jaw healthy and to protect the rest of your teeth. Missing teeth can also make chewing and eating uncomfortable.
Our office also provides many financing options that make getting a dental implant more affordable than ever. We are happy to discuss options with you, and we will work with you to figure out the best way to move forward with receiving dental implants.
YOU CAN HAVE REAL TEETH!
FOR LIFE!
We make it our mission to help people get rid of dentures and other ineffective, clumsy dental treatments related to tooth loss. We want to provide reliable, quality patient care and solutions for treatment. We are dedicated to helping people all over Pittsburgh improve their smiles and dental health through long-lasting, beautiful dental implants. If you have suffered from dentures or pain from missing teeth, we are here to help you. You do not have to deal with the embarrassment or discomfort that can come along with damaged or missing teeth, and you can avoid the struggles of dentures and other ineffectual tooth loss treatments.
REQUEST my APPOINTMENT