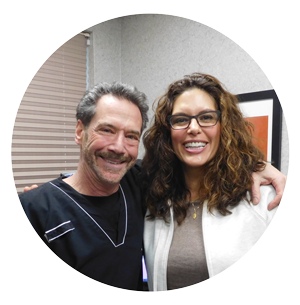 An entirely new set of teeth is possible due to advancements in dental implant technology and a treatment called Teeth In A Day.
CAN YOU HAVE

NEW TEETH IN A DAY?
While you can't expect to walk into a dental practice and walk out the same day with a mouth full of brand new teeth, the process has been improved with new technology to the point that certain steps take only an hour or two to complete.
Specifically, the process of placing dental implants has been refined and streamlined, making it a quick visit with minimal discomfort. Implants can then be immediately covered with temporary crowns, allowing the patient to experience a normal looking smile while waiting for the final prosthetic to be created.
The following examples demonstrate Teeth the Same Day care that has been provided.
---
Case 1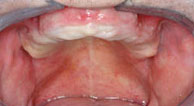 Before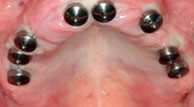 During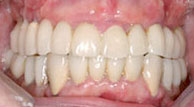 After
After all disease had been eliminated, and after the gum and bone anatomy had been reconstructed, the patient was seen for the placement of dental implants.
Implants were placed using a local anesthetic only. The process was completed in two hours via the use of the latest CAD/CAM computerized implant technology. (See Our Science)
Following the implant placements, the patient then traveled to his restorative dentist and a temporary acrylic reconstruction was fitted and inserted.
The temporary acrylic teeth that were provided were cemented in place, were firm, comfortable and acted as the prototype for the design and manufacturing of the final porcelain teeth.
It is important not to immediately place the final porcelain teeth so that the gum and bone firmly attach to the implants. If any design changes are needed they are easily made and tested using the temporary teeth. Note how natural the top implant supported teeth appear.
---
Case 2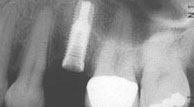 X-ray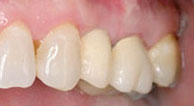 Crown
A dental implant was placed in an area of a missing tooth.
That same day, a temporary acrylic crown was attached to the implant. The acrylic crown was left in place for several months, prior to making the final crown. This allowed the gum and bone healing to be completed before the final crown was placed. This eliminated the risk of having gum recession after the final crown was placed. If this occurs it results in an area of metal showing between the gum and the crown — something that no one wants to see in the final result when they smile.