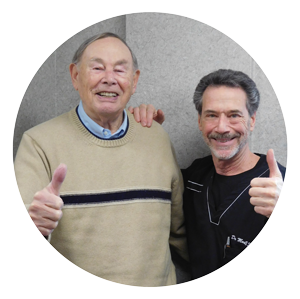 Our procedure is based on complex dental science that comes from over twenty-five years of experience from Dr. Silberg.
As we age, our oral health can take a decline, no matter how often we brush and floss our teeth. That doesn't mean you have to sacrifice having a great smile! With an estimated 40 million Americans missing all of their teeth, Pinnacle Center – Dental Implants & Periodontics is here to help. Tooth loss affects more than just your smile. It affects how you can bite and chew, can lead to jaw bone loss, and may affect your ability to speak. Ultimately, your health and confidence are affected when you have missing teeth.
If you are unhappy with your current solution to your missing teeth, it may be time to find a permanent solution that brings you joy and makes you want to smile again. We highly recommend All on 4 Dental Implants which can offer you a fully restored smile. If you're suffering from a removable denture that simply has not fit well in years and missing all or most of your teeth, you have options! The team at Pinnacle Center – Dental Implants & Periodontics wants to help you restore your smile with All on 4 implants.
Who is the ideal candidate for All on 4 Dental implants?
The groundbreaking approach to dental implants is ideal for edentulous patients (those who have lost all of their teeth) and dental wearers who have become unsatisfied with their current solution.
If you've struggled with poorly fitting or loose dentures for years and are looking for a natural-looking alternative to enhance your smile, you might find that you're a great candidate for the All on 4 solution.
If you've been wearing dentures for a long time, this is a fantastic option for you. You're likely tired of your dentures shifting and loosening over time. Your dentures won't pop out when you're sleeping or chewing something difficult. Instead, they'll stay securely in your mouth, and look like more natural teeth.
Patients that are suffering from the following problems may want to consider the minimally invasive solution:
Problems with chewing and biting properly
Loss of jawbone where there are missing teeth
Shifting or drifting teeth
Jaw issues
Pain or overall annoyance with current denture solution
Difficult with speaking and pronouncing words properly
Constant headaches due to jaw pain
Impatience with constant upkeep and maintenance of your dentures
Dental implants are the most comfortable permanent solution for patients who have multiple missing teeth.


What is the All on 4 Dental Implant procedure?
When patients visit Pinnacle Center – Dental Implants & Periodontics for their All on 4 Dental Implants, they can rest assured that they'll be leaving with a full, bright smile at the end of the day. Patients that are looking for a proper solution to their denture problem may be pleased to find that the procedure of All on 4 is minimally invasive, especially when compared to bridges which may take up to ten dental implants.
If you are interested in the procedure for yourself, it's fairly straightforward. Dr. Mark E. Silberg or Dr. Katherine L. Roll will begin by providing local oral anesthetics to keep you comfortable. From there, they will create four small anchor loads inside your jaw along the edge where you are missing teeth. The holes are fairly small and will be used to screw the implant in which will replace an entire row of teeth.
At this point, your dentures are fitted and measured to line up with the anchor loads. Using a specialized tool, Dr. Silberg or Dr. Roll will tighten your All on 4 Dental Implants into place. Just like that, your smile is brand-new and you'll feel like you have your regular teeth back. To maintain your new smile, you'll brush and floss your All on 4 Dental Implants, and you'll never have to have a cup of teeth by your bedside again.


Why choose All on 4 Dental Implants?
While there are a variety of options to choose from if you are missing several teeth or in need of dentures, All on 4 may be a great option for those looking for a more permanent solution. Patients have noted that in comparison to traditional dentures, there are several advantages including the following:
Same-day implants for an immediate improvement to your smile. Within one day you'll have a full set of teeth and can use them normally from day one.
Eating is significantly impaired. Go ahead, bite into a cob or corn, or even start chewing gum or sticky caramels again! Patients have mentioned that it feels like chewing with their real teeth!
No fear of fussing with your old dentures since they're installed in our office at The Silberg Center for Dental Science.
The structure of your face will be fuller in comparison to before since your cheeks may have a sunken appearance where teeth are missing.
Easier cleaning and maintenance than regular dentures. No more sticky adhesives, and no more soaking your teeth overnight. Just brush your teeth normally.
The amount of plastic in your mouth is greatly reduced, so the teeth feel much more natural and the taste of food and beverages are not affected.
An improvement in your natural speech, with reduced lisping. Those annoying clicking sounds that are often associated with older dentures are entirely eliminated when patients turn to All on 4 Dental Implants.
When the dental implants are installed, your underlying jawbone is repeatedly stimulated by mimicking natural tooth roots. This reduces jaw bone loss so can maintain your youthful smile.
Choosing Dr. Silberg or Dr. Roll as your implant dentist in Pittsburgh means you are making the right choice for your future. Paired with years of experience, a strong desire to improve our patient's lives, and the most up-to-date dental technology, our team can provide the treatment you deserve. Rather than living with the discomfort or annoyance of dentures, make the phone call that will change your oral health today. If you're curious about how All on 4 Dental Implants can help improve your smile, contact us today to schedule a consultation.