Dr. Mark Silberg, a member of the Global Dentist Panel
has been interviewed by Apex magazine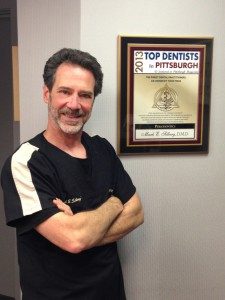 "When I'm not practicing, I share my experience and insight with fellow dentists. I have always loved to teach and share knowledge, which is why I formed the Discovery Study Club in 1994. The Discovery Study Club is part of an international network of study clubs for dentists and other dental specialists. As the founder and director of the Discovery Study Club, my mission is to promote continuing education and training for member dentists, and their teams, to give us a forum to work together, share knowledge, study, learn new technology, and gain information for better ways of planning treatments for our patients. The most rewarding aspect of directing a club like this is that I get to work and study with fellow doctors who all share common values of commitment, excellence, and integrity."
I have also lectured extensively on dental implants and periodontics at a variety of universities, dental associations and societies, such as the University of Pittsburgh School of Dental Medicine, Allegheny General Hospital Dental Department, Children's Hospital Pediatric Residents, The Three Rivers Dental Meeting, and even the Pittsburgh Zoo, where I served as a special adviser."
The early years were difficult with the 1980s economy in recession. The Pittsburgh area suffered greatly as many of our steel mills closed. Through Dr. Silberg's tireless efforts and his commitment to excellence, the practice continued to grow.
By the mid-1980s it was apparent that the office space was too small and there was no room for expansion. The Tower View office building was being built across the street and the decision was made to move to a larger office suite to better serve our patients.
Dr. Silberg designed a new space, and in September of 1987, he moved across the street to the Tower View building at 6200 Steubenville Pike. The building is named Tower View because of the adjacent township water tower, which is in plain view.
Between 1984 and 1985 the dental implant field went through a radical redesign. Dr. Silberg began to study the new dental implant technology and believed that it was safe and effective treatment. He then began to obtain the necessary training that was needed to be able to place implants for his patients. He placed his first implants in 1984. A gentleman named Romano received them, and the implants are still in place and functioning to this day! In the years since, Dr. Silberg has seen the incredible benefits that these implants provide, and has now restricted his practice to implant dentistry and periodontics.
read the article
VALUOCITY

: A FABLE FOR DENTISTS

Dr. Marc Cooper and Dr. Mark Silberg's book, Valuocity, is the first practice management book written as a fable. In the style of highly successful business books by Blanchard, Johnson and Lencioni, Valuocity tells the story of Dr. Carl Oldquist, a seasoned, previously successful owner of a practice in Wisconsin who is confronting the pressing problems and issues of running a practice in today's tumultuous economic times.

The recession has directly impacted Carl's practice. His revenues are down 20 percent, new patients are decreasing, receivables are growing like a weed, his staff is unresponsive to the situation and his personal life is beginning to unravel. Carl feels helpless to turn his situation around.

It is only in the chance meeting with Dr. Sidney Kaprov on the San Antonio River Walk during the annual ADA Convention that Carl is introduced to concepts that will ultimately lead him to understand that the practice he has worked so hard to build is no longer equipped to work in the new economy.

Carl visits Sidney at his ranch in northern New Mexico, and during a highly engaging two and a half days of one-on-one interactions, Carl learns the distinctions that will allow him to reformulate his practice, enabling him to be highly successful and satisfied now and well into the future.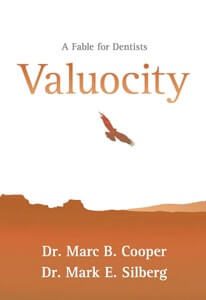 Order Valuocity at Amazon