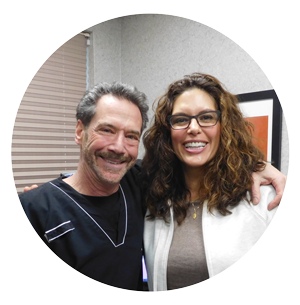 Our patients each have their own story and individual needs and desires for a beautiful and healthy smile. Contact us to set up a consultation for an individualized treatment plan to achieve the smile of your dreams.
COSMETIC

BEFORE & AFTERS
GUM GRAFTS
GUM GRAFT CASE STUDY: JIM
Jim did not like his smile. His teeth were long and misshapen. Dr. Silberg worked with his restoring dentist to provide a gum graft prior to rebuilding the teeth.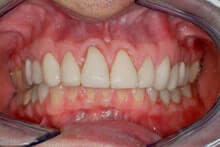 Before Treatment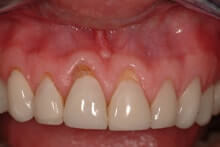 During Treatment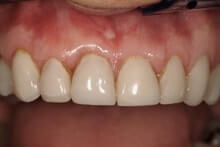 During Treatment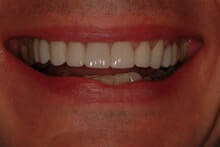 After Treatment
After Dr. Silberg rebuilt the gum tissue with a processed dermal graft, the restoring dentist removed the excess porcelain from the crowns to make the teeth the proper length — note the exposed roots. Treatment concluded with new crowns and a beautiful smile.
---
Crown Lengthening
Gummy Smile Case Study: Erin
When Erin came into the practice she was ready to change her smile. She wanted whiter, larger and more attractive teeth and wanted to show less gum.
Crown lengthening was done to reduce the amount of gum that shows and her restorative dentist placed porcelain veneers. Erin now loves her smile. Life is just too short not to smile.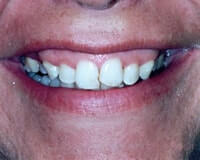 Before Treatment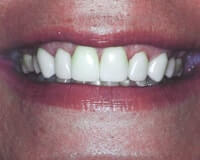 After Treatment
---
GUMMY SMILE CASE STUDY: BECKY
Becky presented to the office unhappy with her gummy smile and the look of her teeth. She reported that every time she brushed her teeth there was profuse bleeding.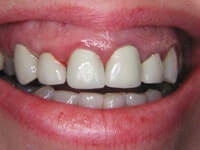 Before Treatment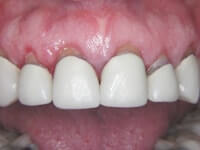 During Treatment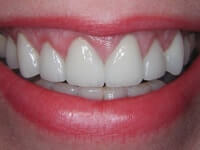 After Treatment
You can see the inflamed tissues and the excessive amount of gum tissue in the first picture. Her treatment plan included crown lengthening surgery and porcelain crowns and veneers. This photo was taken several weeks after the tooth elongation procedure. The final photo shows her smile after all the work has been completed. Becky is thrilled with the result and her gums are now healthy and no longer bleed.
---
RIDGE AUGMENTATION
RIDGE AUGMENTATION CASE STUDY: ROBERT
Robert presented with dentistry that was over 20 years old. It was worn out, discolored and unattractive. He felt that the dentistry made him look older and decided to have the old dentistry replaced. One issue we had to deal with was the collapsed ridge that you see. Two front teeth had been removed years earlier and without the roots of the teeth to hold and stimulate bone function, the ridge and thickness of bone disappeared. This is what we refer to as a collapsed ridge. Note how the teeth were shaped to fit against the collapsed ridge area.
The old reconstruction was removed and temporary crowns were made. The arrow in this close up photo points to the collapsed ridge area. Learn more about ridge augmentation.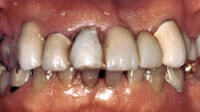 Before Treatment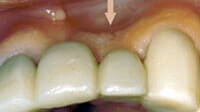 During Treatment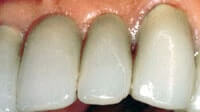 During Treatment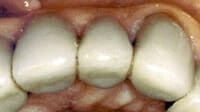 After Treatment