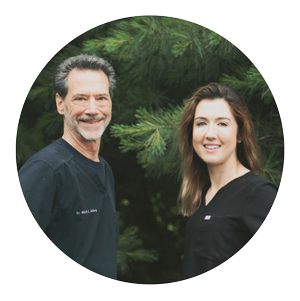 Lasers are being used more often in the care and treatment of periodontal disease. LANAP is a procedure that encourages the regeneration of healthy tissue.
LANAP LASER

GUM THERAPY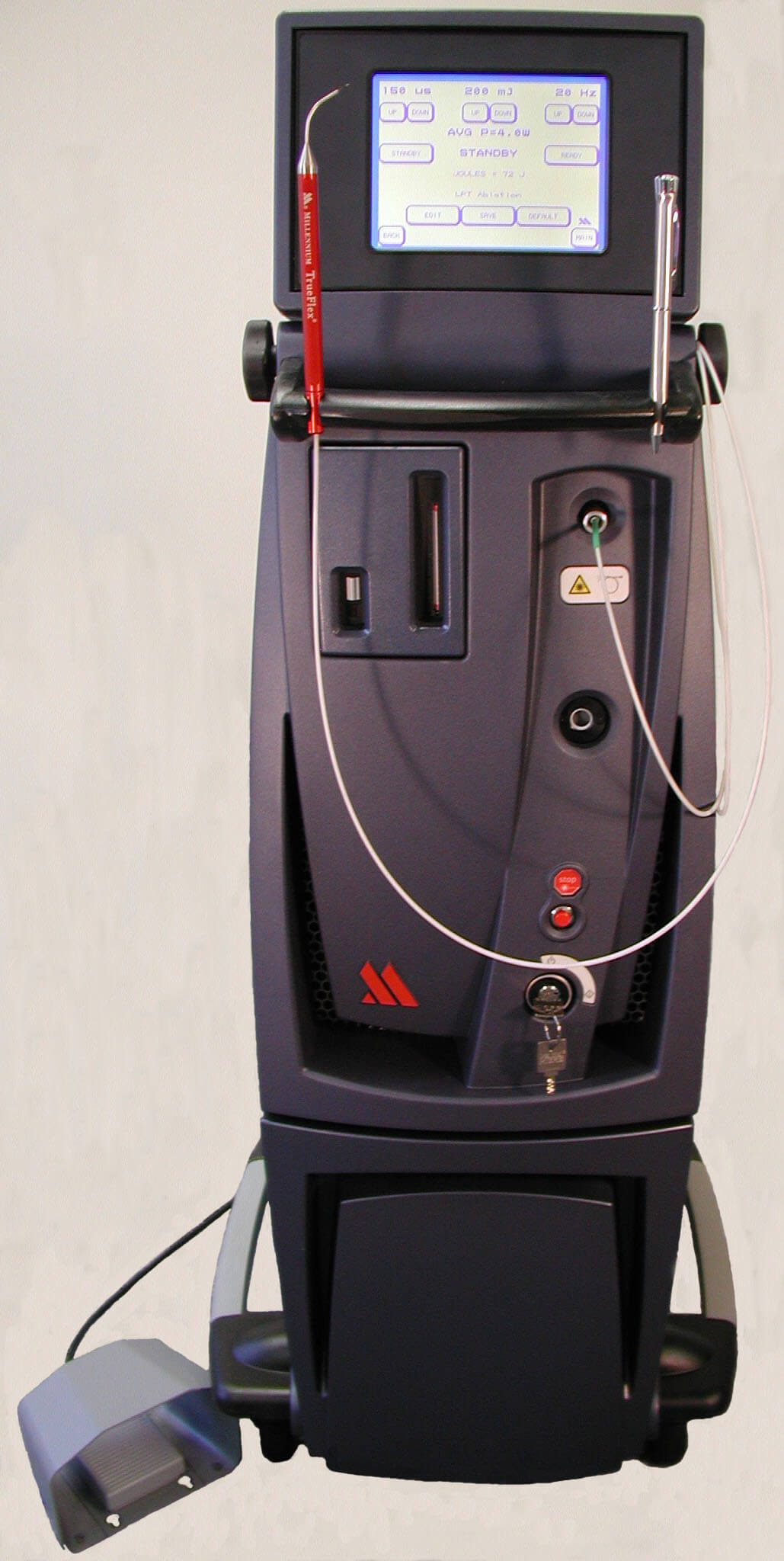 What is LANAP? It is a laser used to treat gum disease with virtually no pain, no cutting, swelling or bleeding. It is revolutionizing today's treatment of periodontal disease.
Fear of the discomfort associated with traditional methods for treatment keeps many of the almost 66% of Americans who have some type of gum disease from seeking treatment. LANAP enables treatment that is just as effective and even more beneficial for the patient in terms of healing times and results. Also, laser periodontal treatment is usually less expensive than comparable treatment with more invasive cut-and-stitch methods.
The LANAP Process: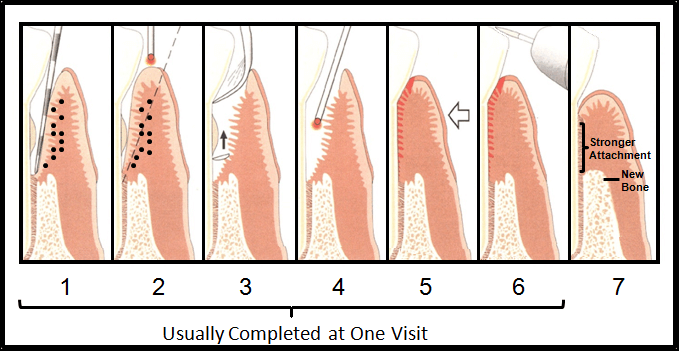 Laser treatment is usually completed over one to two visits to our office. (Traditional surgery requires two to four sessions of about one to two hours each, with subsequent visits for removing sutures.)
The light emitted by a fiber-optic tip selectively removes harmful bacteria and diseased tissue from the pocket by physically interacting with the bacteria and killing it by the absorption of laser energy.
Ultrasonic scalers, as small as the laser, are inserted into the pocket and use sound waves to break up hardened tartar and other debris from the surface of the tooth.
The laser is then inserted once more to remove any remaining diseased tissue at the bottom of the pocket. This last pass of the laser sterilizes the tissues and prepares the root surface to enable healthy gum attachment and aids in sealing the pocket closed.
The recovery is virtually pain-free and bloodless. Most of our patients find their recovery period to be less than 24 hours, so time from work is not lost.
If you recently have been told that you have gum disease and need periodontal surgery, there is an alternative. Call our office to schedule a consultation and learn more about LANAP and if this solution is right for you. See the manufacturer's website for more information.
---
Treatment Procedure
Perio probe indicates excessive pocket depth.
Laser light removes bacteria and diseased tissue.
Ultrasonic scaler and special hand instruments are used to remove root surface tartar.
Laser finishes cleaning pocket and aids in sealing the pocket closed so new germs cannot enter.
Healing of gums to clean root surface occurs.
Bite trauma is adjusted.
Healing occurs.
---
---
LANAP Articles
Dr. Roll and Dr. Silberg offer the following additional information about LANAP laser dentistry topics:
---
LANAP FAQs
Does LANAP surgery hurt, and will I need pain relievers afterwards?
You will have local anesthetic during the procedure so you will have no pain. Afterwards you will only take Ibuprofen (Advil) for a day or so. No strong medications are needed.
If I am worried about being really nervous during the procedure, can I get something to relax?
Yes. We can prescribe oral medication to help you relax and most people are very comfortable with this approach. If you want to be fully asleep we can engage the services of an anesthesiologist for twilight sleep at an additional fee.
Why does my bite have to be adjusted?
The patented LANAP protocol dictates that loose teeth or teeth that hit one another unevenly must be adjusted so they don't create heavy pressure and cause tooth movement during healing. It has been known for decades that the combination of gum disease and uneven biting pressure can cause more bone loss around a tooth. If adjustment is not done, it is not the LANAP protocol, and healing will not occur as expected.
Will bite adjustment ruin my teeth, fillings or crowns?
Most of the time, the bite adjustment is minor and removes very little of the enamel, fillings or crown materials. It is important to understand that sometimes it is necessary to grind through the enamel or grind into or through a filling or crown and in some cases fillings or crowns may need to be replaced after treatment by your restorative dentist. If that occurs it will be an additional expense for you.
Is it really worth ruining a filling or a crown to try to save a tooth?
Yes, if the tooth is worth saving. We can't save every tooth that has gum disease with LANAP surgery but sometimes it is worth trying to save a badly damaged tooth. If the tooth heals well and is strong enough then we will advise you that it is worth replacing the restoration. Sometimes we still need to extract a tooth that we try to save — in that case it would not be advisable to replace the restoration.
What will happen if I don't stick to the program and if I miss visits?
You may not get the healing or the results that we might expect. LANAP is not a miracle cure. It is a very detailed program that has proven to work if all of the steps are followed.