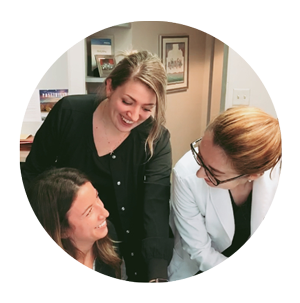 What we pledge to every patient is to use every means at our fingertips and use the best science and available practices to obtain the best result we can.
What Patients Say About Our Office
Choosing a health care practice is never easy. There are so many issues to consider, including the reputation of the practice and the quality of the care to be received, as well as issues related to cost, trust and more.
Although no one really likes to go to the doctor or dentist, we strive to make your visits with us as comfortable and as pleasant as possible. We strongly believe that our patients' comfort is an important part of quality dental care. Our mission is to treat every patient in the same manner that we would like to be treated ourselves.
Dr. Katherine L. Roll believes that your right to choose a dentist is an important freedom. He believes that you have the right to receive a complete evaluation and then be able to review the findings in a manner that is easily understandable. Once you understand your dental problems you can then choose a solution that supports your dental health care goals and objectives. He also believes that you have the right to do nothing once you understand the risks and consequences. It is your future, and it will always be your choice.
We work closely as a team with your referring dentist, but a referral by a dentist is not required for a visit to our office. We welcome referrals from patients and friends of the practice.
We are extraordinarily proud of our team, which is comprised of caring and dedicated professionals. They communicate well with the patients and each other, ensuring that the patient's treatment and administrative needs are met as efficiently and as smoothly as possible.
Our goal is to make you feel comfortable and relaxed. We are here to listen to your questions and concerns and to help provide solutions leading to your better health. Please don't hesitate to contact us if you have any questions regarding your care, or call us at (412) 787-8590.