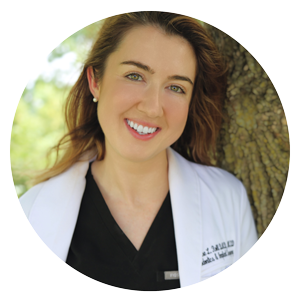 Dr. Katherine L. Roll, a periodontist at The Silberg Center for Dental Science, has been awarded Top Dentist Pittsburg 2020 – an accolade she has received every year since 2006.
Dr. Roll embarked on a career in periodontics following positive personal experiences as a teenager. Having undergone invasive procedures herself at a young age, she intimately understands the feelings of anxiety and fear that can accompany sitting in the dentist's chair. For that reason, she makes it her mission to provide the highest quality of care to her patients, replicating the favorable treatment she received when she was younger.
Dr. Roll is a board-certified dental implant surgeon and periodontist. A Pittsburgh native, she received her Doctorate of Medicine from Rutgers University, followed by a residency in periodontics at the University of Washington.
At the core of her clinical philosophy is a desire to treat patients with compassion. Her goal is to help them reclaim their lost smiles, giving them confidence and pride in their appearance.
Her education reflects this. While at the University of Washington, she focused on full mouth rehabilitative care, including cosmetic procedures such as sinus reconstruction, gum reconstruction, dental implant surgery, and periodontally accelerated osteogenic orthodontics. She is also trained in intravenous sedation, which, again, chimes with her desire to keep patients calm and relaxed.
This unique approach explains why Pittsburg Magazine awarded Dr. Roll Top Dentist Pittsburg 2020. The media outlet determines the recipients of its annual award using data from topDentist – an outfit that began operating in the mid-2000s to identify the best dental professionals in the country by collating peer evaluations. It is currently the only list of its type operating in the United States and contains scores for more than 360 dentists working in the Pittsburgh tri-state metropolitan area.
The survey asks dentists the following question:
"If you had a patient in need of a dentist, which dentist would you refer them to?"
Dentists must then think carefully about which of their fellow practitioners they would most trust to look after their patients. Respondents consider factors that include their nominated dentist's manner with patients, level of training, the contribution they make to the dental community, and years of experience.
topDentist allows the nomination of peers who appear on the American Dental Association website or other local societies, meaning that virtually any practitioner in the area can take part. The survey asks respondents to eliminate any bias in their decision-making, focusing solely on the dentist's professional merits to keep the process fair. Survey organizers also ask practitioners only to evaluate their peers in areas that they understand.
At the end of the process, Pittsburgh Magazine collates the scores and calculates the average. With this in hand, the media outlet then eliminates low-scoring candidates and considers the remainder in further detail, taking into account the role of bias in the voting process. Before finalizing any decision, the organization checks all dentists against state dental boards for disciplinary action. Editors also give careful care and consideration to whether a dentist has received any other awards from professional bodies.
Dr. Roll and her colleague, Dr. Mark E. Silberg (also a recipient of Pittsburgh Magazine's Top Dentists Pittsburgh 2020), operate The Silberg Center for Dental Science, an innovative dental practice committed to the latest prosthetics, technology, and patient care. The clinic believes in adopting state of the art techniques and educating fellow dentists about them. Dr. Roll lectures nationally and internationally about her clinical work and has had speaking engagements at prestigious institutions, such as the American Academy of Periodontology.
Interestingly, Pittsburgh Magazine's Top Dentist 2020 award isn't the only accolade Dr. Roll has received in recent years. In 2018, the Academy of Osseointegration awarded her Best Oral Clinical Research Presentation. Since then, various associations have invited her to more speaking engagements.
Dr. Roll is heavily involved in continuing education in both surgical and non-surgical areas. And she currently has a role as an assistant professional at the University of Pittsburgh School of Dental Medicine and maintains membership at several professional organizations, including the Academy of Periodontology and Academy of Osseointegration. Her professional involvement provided her with an extensive network and the chance to share her expertise – a factor that contributed to her Pittsburgh Magazine award.
Dr. Roll's peers nominated her for the Top Dentist award owing to her qualities as a clinical practitioner. As a specialist, she prides herself on honesty, integrity, and providing the highest quality of care possible to her patients.
Patients also rate Dr. Roll and The Silberg Center for Dental Science in general very highly. There is a genuine sense that the practice cares about the patients that come through its doors. Everyone on the team commits themselves to the patient from the moment they arrive until they leave. The goal is to make ostensibly unpleasant procedures (such as root canals) as comfortable as possible. Dr. Roll does not want patients to feel unmanageable feelings of distress when in her care and offers various techniques that ensure that they don't.
Dr. Roll instinctively understands that effective dental practices must go beyond mere procedures and facilitate their patients' emotional needs. She endeavors to build trust from the outset, guiding the patient through dental work at every step of the process. Ultimately, her goal is to find ways to transform the experience into something that is both medically sound and psychologically pleasant. Going to the dentist should not, in her view, be a negative experience.
Dr. Roll is widely considered a leader in her field for those considering cosmetic work. She uses state of the art clinical procedures to rebuild gums and lost teeth, and repair crooked teeth. Dr. Roll regularly receives referrals from other dentists who trust the quality of her work. She and the team at The Silber Center for Dental Science are currently accepting new patients. Contact us today!