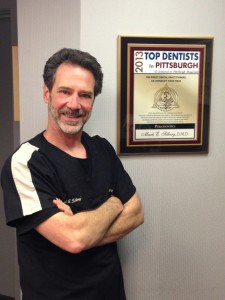 Dr. Mark E. Silberg – a periodontist and Pennsylvania native – has won the coveted Top Dentist Pittsburgh 2020 for the 14th year in a row. Pittsburgh Magazine made the award based on thousands of peer evaluations using a robust methodology to reduce bias.
Dr. Silberg is a different type of dentist. From an early stage of his training, he saw that current methodologies were outdated and ripe for improvement. He wondered why dental schools were still teaching students to grind down teeth to replace crowns and fit dentures. These technologies were more than three hundred years old. Surely, he thought, there must be a better way.
With this in mind, Dr. Silberg became interested in dental implants. Replacing the root of a tooth with a post fused with the bone seemed like a better approach than trying to use ad-hoc or imperfect solutions. However, back in 1974, when he was completing his medical training, attitudes towards implants were overwhelmingly negative. Rumors even circulated that New York dentist Leonard Linkow – a pioneer using implants in his patients – was a "madman."
Dr. Silberg, however, wasn't convinced that current practice was the best that it could be. He had gone into dentistry to save teeth, not remove them, so he decided to do something about it.
In the early 1980s, Dr. Silberg discovered that Linkow had perfected his implement technology and could create highly functional false teeth. In 1985, he arranged to get training from Dr. Linkow directly, transforming his dental career. Once trained, he dedicated his energies to fine-tuning the placement process, using implant techniques that accurately reproduced the original teeth' aesthetic. His goal was (and still is) to make dental implants more predictable and available to patients while reducing discomfort.
This attention to detail and desire to improve patient care forms the basis of Pittsburgh Magazine's decision to name Dr. Silberg as a Top Dentist for the 14th year in succession. He has courage of his convictions and a willingness to pursue novel treatments if there is a good chance to improve patient outcomes.
Pittsburgh Magazine uses an excerpted list from the 2020 edition of topDENTISTS to determine who the Top Dentist should be. No popularity contest, this survey relies on peer testimony from a pool of dentists listed at the American Dental Association and local societies. It asks dentists to nominate which professionals they would send their patients to if they needed dental care. Respondents are encouraged to put aside their personal or political differences and make assessments based on professional evaluations only.
Once topDENTISTS completes balloting, Pittsburgh Magazine compiles the scores to create an average. All those dentists with scores above the threshold for the Pittsburgh area enter a shortlist for further consideration. The media outlet considers marginal cases as well as how bias might influence voting patterns. It then checks the dentists' records against state dental board disciplinary action before coming to a final decision.
Dr. Silberg is well-known in professional dental circles for his role as an educator. When he is not practicing, he shares his experience and insights with fellow dentists. He loves teaching and sharing knowledge and is the Discovery Study Club founder, begun in 1994. His mission is to continue educating and training members of the organization so that their patients can benefit from state-of-the-art implant treatments.
Dr. Silberg sees part of his role as providing a forum for like-minded professionals. For him, the most rewarding part of directing a club is that he gets to work with fellow doctors who all share a passion for excellence, integrity, and patient care. He also lectures extensively on dental implants and periodontics, traveling to various dental associations and societies, including The Three Rivers Dental Meeting, Children's Hospital Pediatric Residents, Allegheny General Hospital Dental Department, and the University of Pittsburgh School of Dental Medicine.
In addition to his speaking work, Dr. Silberg is also the co-author of Valuocity with Dr. Marc Cooper – a practice management book written as a fable. The novel reflects Dr. Silberg's struggles running a dental practice in the recession-ravaged economy of the 1980s. It follows the fictional story of Dr. Carl Oldquist – a formerly successful practice owner, now facing a 20 percent decline in revenue. The book chronicles how he manages to turn his situation around by attending various educational seminars and modernizing his operations. Eventually, he learns the tools that enable him to thrive in the new economy and turn his practice around.
Patients rate Dr. Silberg and his team very highly. Primarily, they appreciate the friendly yet professional vibe of his practice and the quality of care received. The Silberg team are exceptionally knowledgeable and help patients feel relaxed, even when going for ostensibly unpleasant procedures, such as tooth extractions,
Pittsburgh Magazine collected questionnaire data on more than 360 dentists in the tri-state metropolitan area to determine the winner. Dr. Silberg says that he is deeply honored to have been selected for the Top Dentist award for fourteen years in a row. From the outset as a periodontist, he has promoted the best treatments and encouraged his peers to move away from redundant methods. Now he has gained recognition for the work that he has done to move the dental profession forwards.
For those considering dental implants or periodontics, Dr. Silberg is widely regarded as a leader in his field, as judged by his peers. He not only uses the latest techniques but works hard to educate the remainder of the dental professional community about them. He is always keen to improve patient care and compliance by placing safety at the forefront of everything that he does. Dr. Silberg is currently accepting new patients and takes the time to learn about everyone he takes on board. He receives referrals from other dentists and from existing patients who recommend him to their friends. Contact us to schedule an appointment today!