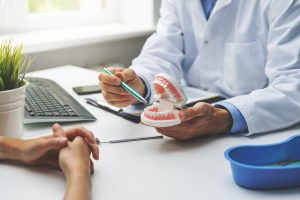 A periodontist is one of the most valuable medical care experts that anybody will ever encounter. After all, your oral health has a huge influence on your look as well as general well-being. The prevention, diagnosis, and treatment of periodontal disease is hugely important.
Given the significance of the treatments provided, it's imperative to find a periodontist who will give you the care you deserve to obtain optimal oral health. Here are five simple steps to ensure you make a smart decision.
Consider Their Location
Convenience is an important ingredient in the recipe for success, especially as you may be required to make several visits over the course of a few months. While you won't want to simply choose the nearest solution, an easily accessed venue should be one of the top items on your agenda. As well as the geographical proximity to your home or workplace, you should consider the car parking facilities and other logistical elements.
Check Their Credentials
If you do not have trust in the periodontist, they are not the right choice. Therefore, it's imperative that you check their track record to ensure the service provided is up to the desired level. Doctor of Dental Surgery (DDS) or Doctor of Medical Dentistry (DMD) certifications are crucial. Meanwhile, a business that has been operating for several years is preferential to a company launched by inexperienced doctors. Reading customer reviews or seeking recommendations from friends and family can be a very useful tool also.
Analyze Their Treatment Types
Checking that the chosen periodontist is capable of completing the specific task at hand is vital. Likewise, it's crucial to check the other list of available treatments. Some of the tasks you may need to look for include non-surgical treatments, laser treatments, dental crown lengthening, pocket reduction, etc. Be sure to ask what options are offered, along with how they are completed.
Look For Flexible Payments
Nothing matches the importance of your health or the quality of the treatment received. Still, value for money is important, too. Dental treatments can be expensive, which is why most people require flexible repayment plans. In some cases, Medicaid and other insurance types can provide additional support. A periodontist's care and treatments are sometimes medically necessary and do sometimes fall under the umbrella of acceptable claims.
Build A Rapport
Finally, you must remember that treatments need to be tailored to you. Therefore, clear communication and transparency with the dental office is essential at all times. When you live in Pittsburgh, Dr. Silberg's commitment to go the extra mile to put you at ease and ensure that you receive the right type of treatment makes all the difference. The support of all our team members can make the periodontal procedures far less stressful, allowing you to focus on enjoying your restored smile. Contact us to schedule an appointment today!